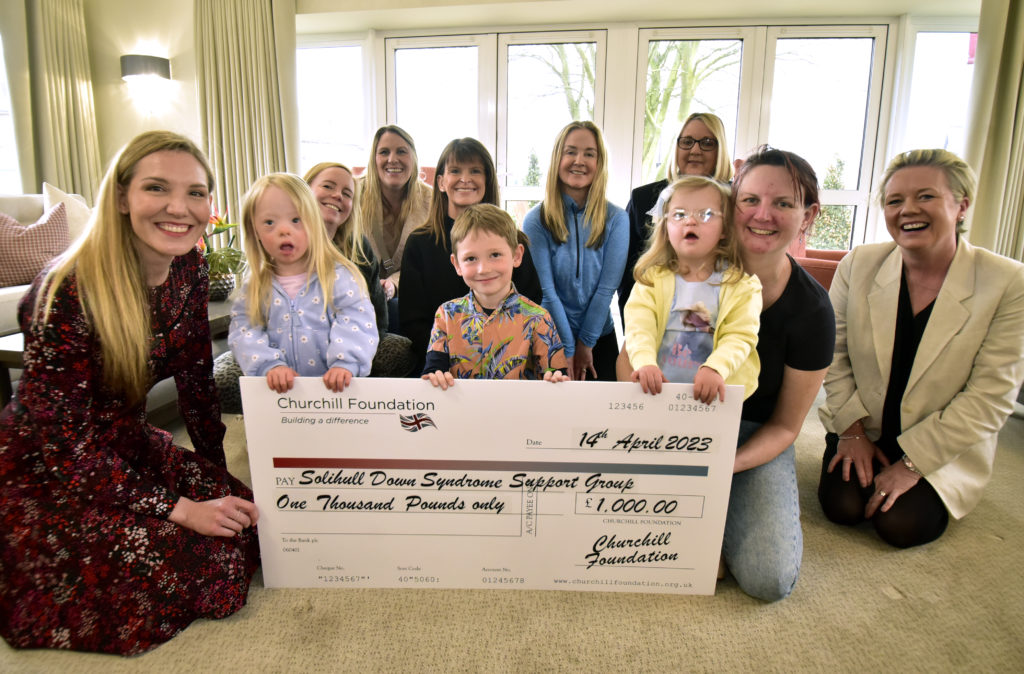 Churchill proudly invited Solihull Down Syndrome Support Group (SDSS) to its brand new Bower Lodge development in Shirley to formally present a donation of £1,000 with British actress, Elizabeth Bower.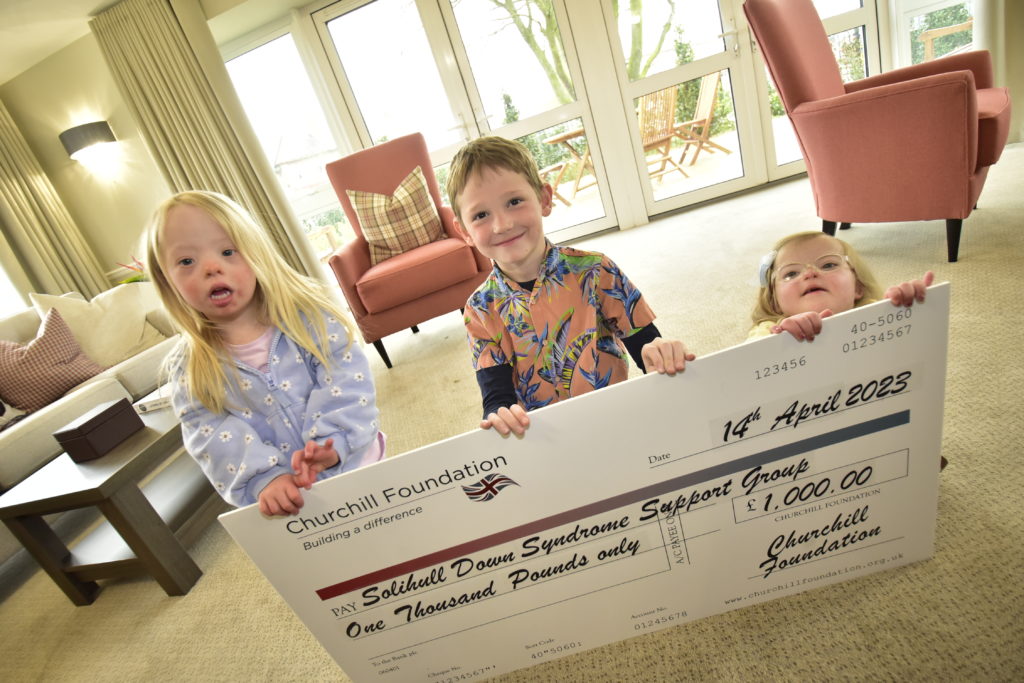 Bower Lodge, a collection of 48 one and two-bedroom apartments located in the heart of Solihull, was officially named after British actress, Elizabeth Bower. Having previously attended a local school and having personal links to the area, Churchill found it fitting to name the new Lodge after her. Elizabeth is best known for her role in the Doctors TV series, and most recently, she has been working on Sir Lenny Henry's new series, Three Little Birds, which was filmed in the Midlands and is due to be broadcasted later this year. Her latest audiobook narration, Date with Evil by Julia Chapman, was also released last week.
To commemorate the naming of the lodge, Churchill Retirement Living donated £1,000 to Elizabeth's chosen charity, SDSS – a Solihull-based, parent-led charity that supports families and carers with children and young people with Down Syndrome.
The event took place at the Lodge last week, where children from the charity attended with their parents to enjoy a wonderful afternoon of nibbles and chatter with Elizabeth, her family, and the Churchill team. It was a great chance for everyone to get to know one another and share their experiences over some tea and coffee.
Elizabeth said: "It's been an absolute privilege to be associated with Bower Lodge and Churchill. Whenever the spotlight is thrown on you unexpectedly, it's nice to redirect it to something that stands for a good cause. SDSS is great charity in the local area that provides a much-needed platform for emotional and practical support for families, carers, and children, and it's wonderful Churchill has been able to support them with this substantial donation."
Tracy Hunt from Solihull Down Syndrome Support Group commented "Our Trustees and families really enjoyed it, there was a lovely welcoming and our kids felt right at home! It is a beautiful opportunity to make lifelong bonds with our community and promote positivity for our children and adults with Down Syndrome. We were overwhelmed with the total on the cheque and thank Elizabeth Bower for her support and Churchill for their generosity."
"SDSSG supports 66 families within Solihull and the surrounding areas, we solely rely on grants and donations to fund our activities which are accessed by our very broad age range of members, our youngest being 6 months old and our oldest member who is 30 years old. As a charity, our aim is to create a fun support organization for parents and carers, siblings, and their extended family networks in a fully inclusive environment. We offer a platform to do just that through various organized activities and events. So, this donation is greatly received and will help us support our community, promoting positivity within the community within Solihull, thank you again."
Bernadette Hennelly, Regional Marketing Manager at Churchill Retirement Living Midlands, added: "It was a truly heart-warming afternoon to meet the children and parents from the charity, and to see how much this donation means to them. From creating play groups and activities for children, to educational support for their families and carers, SDSS is an integral part of our local community, and it is a privilege for us to support them."
For more information about Bower Lodge, visit www.churchillretirement.co.uk or call 0121 4682 918.